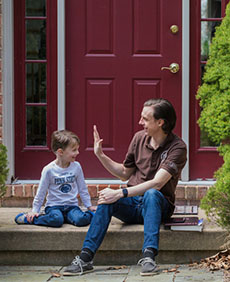 This section of the site provides information on university programs and policies designed to help Lehigh faculty members balance the responsibilities of their professional and personal lives. Resources include links to the Work/Life Balance information and the Child Care Center, as well as links to the FMLA and Lehigh's Tenure Clock Extension policies and forms.
Family and Medical Leave
Full-time Leave
Intermittent Leave (Modified Duties)
Tenure-Clock Extension
Lehigh Sloan Research Grants
Child Care
Family and Medical Leave
Tenure-Clock Extension
Lehigh Sloan Research Grants
Short-term Disability Policy
Family and Medical Leave Act
Tenure-Clock Extension
ADA Manual for Faculty
FMLA Policy and Forms
Human Resources FMLA Request Form Human Resources must approve the leave based on medical certification or other documentation. The HR FMLA form should be filled out by the faculty member and sent directly to HR.

Provost's Office Accommodation Form The Department Chair, Dean, and the Provost's Office must be aware of leave requests for academic planning purposes. For more information, please refer to the second page of the Provost's Office accommodation form.